DISTRIBUTOR PRICES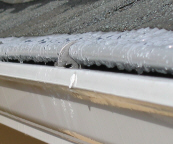 The Gutter Shield advantages over competitors.
► No end caps or miters to purchase.
► Uses the same universal clip for all gutter styles
► Each clip has two screws to prevent it from moving.
► Clips are spaced 24 " apart. Less chance of debris getting caught.
► Mounts on virtually any existing gutter (K-style, half round & commercial)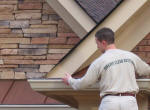 You can become the leading gutter protection company in your area!
► Priced to sell.
► Ease of installation.
► Lowest profile professional gutter cover available.
► Made of lifetime materials, aluminum shield, stainless steel clips & screws.


The Gutter Shield comes with Stainless Steel Clips & screws.
► Each 4' section requires 2 Stainless Steel Gutter Clips and 4 screws.
► Each 100' box includes 55 clips (more than enough to complete the job)
► Each box contains 110 #6 stainless steel screws.
Colors: BLACK, BROWN, WHITE, COPPER
IMPORTANT: The Shield need not match the color of the gutters. Choose a color which will coordinate with the roof and gutters.
BLACK is our most popular color since it is nearly invisible from ground level when installed. Remember it is only 3/4" tall and it fits under the first row of shingles. Only the front edge is visible not the entire device like other gutter covers.
BLACK coordinates or blends in with any color roof or gutter. It enhances the appearance of the gutter by giving it a finished appearance!
COPPER: NEW COPPER The Gutter Shield ®

Fits all 4", 5" & 6" K Style & Half Round Gutters Same dimensions as aluminum however much heavier in thickness to prevent bending.
IMPORTANT:
We are confident that after just one installation of The Gutter Shield ® you will clearly see the advantages over any other product. It's ease of installation, great performance and customer acceptance is a very persuasive argument for using our gutter cover. Hundreds of other gutter protection contractors have learned the difference using The Gutter Shield ® makes in their bottom line, you can too. You have everything to gain by using our system and absolutely nothing to loose, why not trying it today!
Become the The Gutter Shield ® installer for your area.